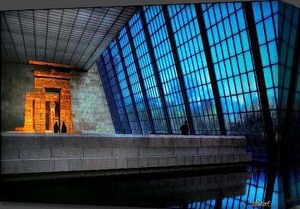 The Temple of Dendur is a temple that contains a gate to the Spirit World that resides in the Metropolitan Museum of Art in New York City. John and Mr. Rakshasas visit this museum in order to find Faustina's spirit. However, when Mr. Rakshasas and the twins were visiting the museum, they were attacked by the terracotta warriors from the temple. It absorbed his spirit and he was sent to the Spirit World. The Ka servant of the Temple of Dendur was Leo Politi.
The temple was built by the Roman governor of Egypt, Petronius, around 15 B.C. dedicated to Isis, Osiris, as well as Pediese and Pihor. The temple was commissioned by Emperor Augustus of Rome and has been transferred to the Metropolitan Museum of Art in New York where it resides since 1978. It is the only Egyptian temple in the Western hemisphere and was a gift from the Egyptian people to the United States.
Alongside the temple were hieroglyphics of Isis, Osiris, and their son Horus. The ankh, the symbol of life, and lotus blossoms were bound to the temple.
Community content is available under
CC-BY-SA
unless otherwise noted.